In the last couple of weeks I've been tired to the very insides of my insides. Like, my blood is tired, my veins are tired, my ribs are definitely phoning it in. My brain? Not dissimilar to a small, three day old bowl of cold rice noodles. In this middle of all this lethargy though, something really exciting happened: I managed to meet THREE of my idols, all within one week.
I also made this really good pasta today for my lunch. Actual IRL pasta is easily one of my favourite foods, but did you know, you can make extremely damn good fake pasta out of zucchini, which takes about three seconds and which also goes along with my general aim of eating a ton of vegetables in my daily life.
Back to the idols though: I met the incredible writer and The Toast co-founder Mallory Ortberg, whose Childrens Stories Made Horrific series is spine-clenchingly chilling and whose Western Art History series is joyfully hilarious and thoughtful and whose hair is shiny and beautiful and fulsome. I was super delighted to see her at two separate Writers Week events where she was interviewed, but I actually ended up running into her on the waterfront a couple of days before. I'd just had oysters and wine and blurted out about having consumed both, which felt weird, and then I also told her that I wrote Crush Cakes for The Toast and she hugged me, which was awesome. When I met her again after her talk on Friday, I was able to apologise for the, let's face it, inevitable awkwardness ("there's something so personal about oysters") and get a photo and thank her for being excellent and it was all just very, very cool.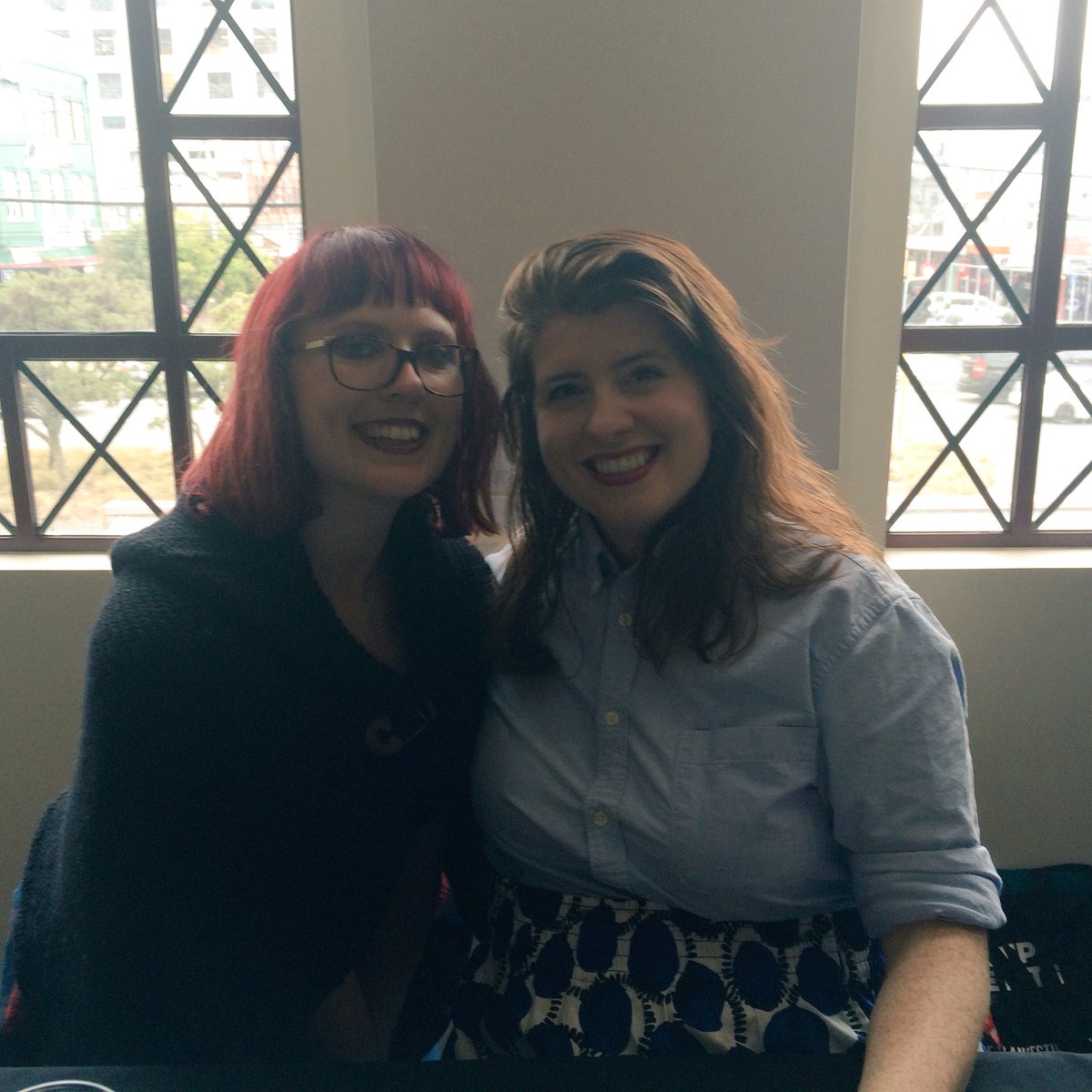 me n mallory!!
Come Saturday morning, I was due to march in Wellington Pride with the group I volunteer for, Ballet is for Everyone. I was running late, I was looking for people in tutus carrying a banner, but like, this is Pride. Everyone is in tutus and carrying banners. Just when I was all "I might just run home because I feel social anxiety and I'll never find my group and I'm not done complaining about how tired I am" I clapped eyes on, OF ALL PEOPLE, Hunter Bell and Jeff Bowen. These names may not mean an awful lot to you, but they were the co-writers and two of the four co-stars of one of my very, very, very favourite Broadway musicals, [title of show]. As in, New York City, which is about as far away from New Zealand as you can get before you start coming back around again. It was almost an outrage, like, how dare you be here in Wellington, New Zealand, in front of me, when your musical means so much to me and the lyrics of which have comforted me in times both dark and less dark, and you've been on The Literal Broadway and New Zealand is so isolated and I nearly didn't get out of bed and you're right in front of me and this is so strange.
part of it all
But they were also really nice and it was somehow low-key and charming yet ridiculous and surreal, which is exactly how it should be when you meet your idols, right?
Back to the zucchini pappardelle though: so as well as raw zucchini there's also oily, salty slices of crisply fried zucchini. Because the pasta ribbons are so wafer thin and fresh and clean they can really handle a lot of oil and salt being loaded up on them, and it all balances out beautifully. The raw pappardelle is coolly refreshing and a tiny bit creamy yet peppery, and the fried rounds are all luscious and soft and golden and crisp. Parmesan and a blanket of parsley add to the salty-peppery vibe, keeping it all very simple yet really, really gorgeous.
double zucchini pappardelle with parsley and parmesan

a recipe by myself. It looks long and complicated but it's not, promise. I just like to over-explain.

two large zucchinis
extra virgin olive oil
salt
a handful of parsley, finely chopped
some parmesan

Heat a decent quantity of olive oil in a large, wide pan, like a couple of millimetres deep. 
Finely slice one of the zucchini into rounds, and once the oil is good and hot, place the slices of zucchini in the pan in a single layer. You won't be able to fit the whole lot in at once, but this only requires a little patience and is totally worth it. Let the slices of zucchini fry in the sizzling oil till they're browned and a little curling at the edges, turning them over carefully partway through with a spoon or something. Remove the slices to a bowl and sprinkle with salt, and continue frying the rest of the zucchini slices.

Meanwhile, use a sturdy vegetable peeler to make the pappardelle out of the remaining zucchini. It's very simple – just rub the peeler back and forth along the length of the zucchini and it will rapidly turn into ribbons. Arrange them on a plate and then turn the zucchini over and repeat on the other side. Then just do your best with what's left – this is going to give you some shorter or skinnier ribbons of zucchini but like, it's all going in your mouth anyway.

Then, just arrange the fried zucchini on top of the raw zucchini, sprinkle with the parsley, and shave over as much parmesan as you like. Finally, spoon over some of the remaining oil from the saucepan and grind over some salt and pepper.
This serves one, generously.
look at all that vegetable
look at it
I honestly can't emphasise how fast I ate this. It's delicious.
Having almost caught up on my sleep I've finally found an agreeable middle ground somewhere between the ferocious healthiness of an uncooked vegetable and the deadening effect of overtiredness, and as Easter is coming up I will have a few precious days off to practice some aggressive serenity. But even when you're the tiredest ever, sometimes it's worth getting yourself out of bed because you never know who you might run into. Oh sure, it'll probably be an ex that you run into while you're wearing an outfit you hate and you're stuck in a coughing fit, but it might be a Broadway star or an incredibly inspiring writer.
PS: you should definitely check out
Ballet is for Everyone
, the people behind it and their kaupapa is wonderful and I'm really proud to be volunteering with them. Also, teaching ballet to children is kinda delightful. They are such tiny dinguses.
PS PS PS: actually nah, that's all.
_______________________________________________________
title from: Green Day's jaunty song She's A Rebel, from the so-dated-it's-timeless and always wonderful American Idiot album.  
_______________________________________________________
music lately: 
Icehouse,
Electric Blue.
This is the kind of 80s song that gets diluted over time through constant easy listening station rotation but you know when you hear a song really loud when you're in the middle of a coffee shop and it's almost like you've heard it for the first time and you feel like you're in a movie? I don't know, this had a cool chorus is all.
_______________________________________________________
next time: all this talk of "pasta" has me craving actual pasta. Lol.