mugging for the camera
Comfort food can take many forms. For me it's usually something that gives you the masticatory impression of gently sliding into a warm bath, like a slowly-stirred risotto or a bowl of soft, butter-saturated polenta or an enormous pile of mashed potato, but sometimes comfort food is more about the act itself than whatever form the food ends up taking. Sometimes it can simply be like, it's 2am and I just finished work and it's too windy to stand up straight and you're sad and I'm sad and I bought you this bag of crisps from a 24/7 dairy because the line at BK was too long and also I didn't know what else to do but this $3 gesture represents a lot more than merely just crunchy sodium goods…y'know? 
But sometimes comfort food is very obvious and straightforward, in this case: a chocolate peanut butter cake that you make in a mug (the most comforting vessel!) microwaved briefly so that quite instantly you can reward yourself for existing with a piping hot, warm, rich cake. Just for you. I'd never made a mug cake before but I'd sure heard of them: in my completely unresearched experience mug cakes started off as the sort of thing that an enthusiastic relative would email you accompanied by sparkly gifs of puppies and a phrase along the lines of "This is the most dangerous cake in the world…..Because now chocolate cake IS OnLy five minutes away!" A few rotations of the earth and the very simple recipe is now a staple of pinterest and has morphed into such things as "choc chip cookie in a mug" (why would a cookie be in a mug though) and "red velvet layer cake in a mug" (this does not sound comforting or fast tbh.) However you come to it, and whatever your opinion on microwaves, there's something thoroughly charming about going from point A – you standing there with no cake – to point B – you eating a small cake from a mug – within about five minutes. And so, in the mood for sugar and immediacy, I recently made my first mug cake. 
 stay inside, drink more coffee, make cake really suddenly
I made this recipe up based on ingredients I already had in my possession, basically just whatever dusts and pastes I could find that might together form a half-decent cake. A little cocoa, a little coconut sugar (included for its extraordinarily deep caramel flavour, but just use brown sugar or plain sugar if you like) a little peanut butter for those this-is-a-fun-cake vibes…and after a long 90 seconds it transformed into a soft, meltingly chocolately, utterly delicious brownie-type thing, which I poured cream all over and ate in a chocolate-scented haze of beatific calm. All of which could be yours really, really quickly if you make yourself this.
chocolate peanut butter mug cake

a recipe by myself

two tablespoons butter (around thirty grams)
one tablespoon coconut sugar or brown sugar
two tablespoons cocoa powder
two tablespoons peanut butter
quarter of a cup milk
a pinch of baking powder
a couple of squares of chocolate, roughly chopped

Place the butter in the mug that you're using and soften it in the microwave. Stir in all the ingredients – a teaspoon with a long handle or a narrow whisk is good for this – and add a little extra milk if it seems toooo stiff. It should come to about halfway up the mug. I microwaved it for a minute on high, then another thirty seconds, by which stage it was firm enough on the surface for me to decide it was ready to eat. 

Plunge a spoon into the cake, pour cream or milk into it, and eat all by yourself. 
It doesn't rise very much, mind you, but I was astounded at how filling it was, so what it lacks in height it makes up for in cellular density I guess? Also for the work of minutes that you can count on one hand it's a pretty tidy result. In fact pretty tidy is underselling it: it's really, completely, wonderfully delicious.
This blog post is also going to be fast and mug-sized, but to distract you (and indeed, myself) from this I will leave you with Wednesday the silly beautiful tiny dingus of a cat being a literal loaf.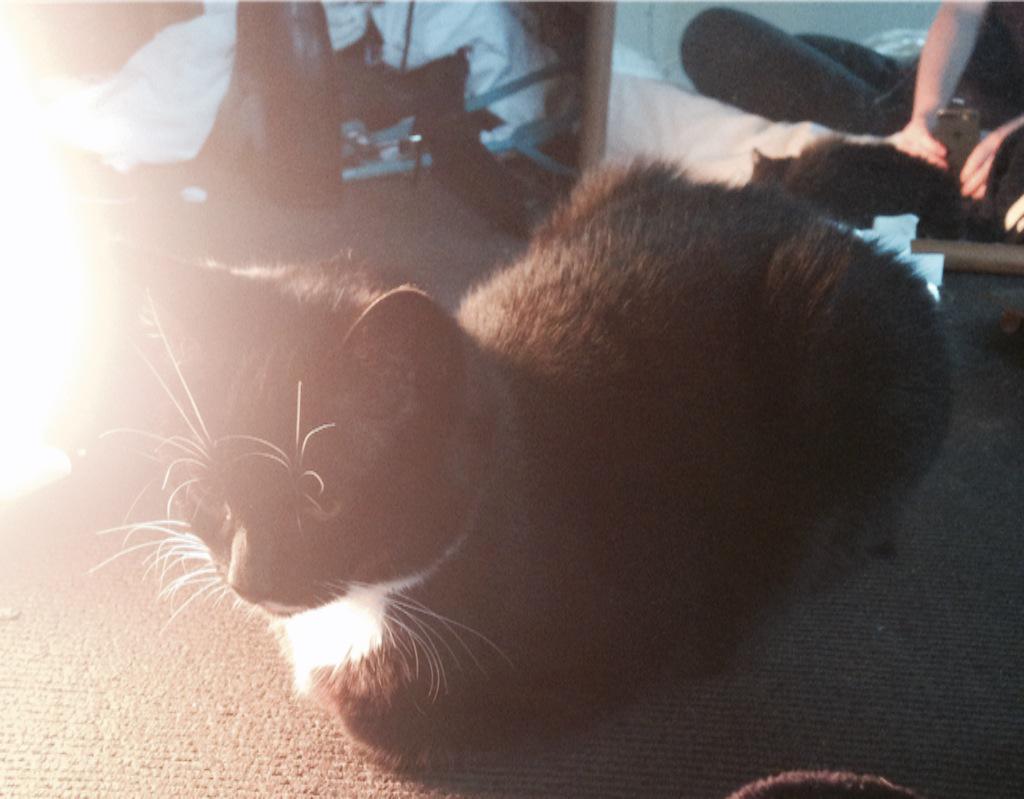 loaf cat (the demonic glow is coming from my heater/the camera on my phone not being able to deal with said glow)

Wait, one more thing! If anyone out there could please recommend a rad web designer that would be excellent. I'm thinking about refreshing this old blog here since it currently looks thoroughly ancient and un-cute. I don't know anything about anything so am hoping to go by personal recommendations for people who do good work like this, and am also hoping that my blog can undergo some kind of movie makeover transformation to the effect of a stunning brunette removing her glasses and undoing her ponytail and suddenly everyone gasps and notices how bodacious she is. 
__________________________________________________________________
title from: mate, it has been a while since I've quoted RENT on here. This song that I quote today, I Should Tell You, is so fragmented and tentative and nervous and beautiful. Jonathan Larson could really, really write. 
__________________________________________________________________
 music lately:
I don't know why Anna Kendrick's voice in the 
Don't You Forget About Me
 bit of 
the final number in Pitch Perfect
 makes me feel emotional, but there you have it. (I saw Pitch Perfect 2 last night, there is wonderful singing and Anna Kendrick is great and it's so weirdly racist and many other bad things! That's my review.) 
Shazam
, by Spiderbait, from one of my favourite music genres, "bratty".
Lorde,
Royals.
I hadn't listened to this song in forever and ever and wow it is still such a tune.  
__________________________________________________________________
 next time: roast chicken in a mug! I'm kidding.