so delicious that Pony by Ginuwine starts to play non-diegetically when you take a bite
There's a scene in the important film Walk Hard: The Dewey Cox Story, where Dewey Cox is starting his rapid trajectory towards being a famous rock'n'roll star. He tells his wife Edith, "I'm gonna miss some things, okay? I'm gonna miss some birthdays and some christenings. I'm gonna miss some births, period. It's just unrealistic to expect that I'm gonna be here for every time you have a baby." I'm currently relating heavily to this, apart from, tragically, the bit with the ascension to fame, because I'm week three into working roughly five thousand times more hours than I normally do. Luckily, I adore my job and doing so many hours does make payday fun, but all I've been doing is sleeping and working which doesn't bode well for getting blog posts done, or indeed anything. In fact, I've been trying to write this very one here that you're reading for about seven days now, but every time I went to write I would instead just stare into space and then wake up three hours later, gently spooning my laptop like it was some kind of ergonomically disappointing teddy bear.
Yet finally here I am! With a really wilfully stupid peanut butter chocolate caramel slice! It was in a brief moment of lucidity that I concocted it, taking a base made largely of peanut butter and actual butter, a centre made of condensed milk and more butter and a handful of roasted salted nuts, and a top of melted milk chocolate. Seriously, that's really all there is to it. You pretty much know the recipe now.
hey baby, I think I wanna marry you
It sounds like it would be stupidly, almost uncomfortably sweet and rich, and while admittedly I have literal syrup running through my veins instead of blood and therefore my bar for the overly sweet is set quite high, I assert to you that it's honestly very manageable to eat. In that you could easily manage to eat three quarters of it before you even realise the knife is in your hand and you're standing at the fridge slicing off thick squares of it.
Oddly enough it's the caramel centre that keeps it in check – you blast the hell out of the condensed milk and butter in the microwave before spreading it across the base, and all that heat reduces it down and brings out the ocean-deep dark toffee flavours present in the sugars. Then the roasted nuts, crunchy as popcorn and covered in salt, add to this. Just in case it starts to sound all too sensible I then cover it in the plainest sweetest mellowest milk chocolate, but with good reason, because dark chocolate would be too punishingly intense and make it a chore to eat.
it isn't too hard to see, we're in heaven
Speaking of important movies and delicious things that make people flustered, my one other accomplishment of recent time is, last night I went to the movies and watched Magic Mike XXL with my girlfriend and her flatmates. But Laura! I said to myself. Aren't you really like…gay? How could a movie about male strippers possibly hold your precious attention? My people, this movie is one of the best pieces of filmmaking I've ever encountered, one of the most joyful, kind-hearted, generous movies, and honestly, a rare film where women of all shapes and skin colours and faces have fun and are celebrated and support their friends and are in charge and are never, ever the joke, even though you keep thinking that's where the movie's gonna go. A film where men are emotional and express their love for each other without once adding "no homo", but also a bisexual character is not seen as a curiosity to be analysed and picked apart. A film where guys listen to women and help them, not in a "you frail stupid woman let me do this better than you" kind of way, but a "I'd like to make things better so you can be happy because that'd be nice" kind of way. Just when you think it's gonna zig, it zags. Honestly I'm getting emotional just trying to write about it.
Oh and if you're into the sight of men and stuff, there's…a lot of abdominal muscles being flung around. But truly, this movie is so very good, in the way that an old dog tied up on the street waiting patiently for their owner is good. Take your mother, take your 300 year old grandmother, take your husband, take your nine year old child, take everyone to see this movie! Put it this way: I came out of it saying that I'd actually love to read think-pieces on it, and normally my attitude towards think-pieces is that they should be thrown into the ocean. So. While I've been berating myself frowningly for not being outstanding in the field of achievement lately, getting this movie under my belt (hey-oh!) makes me feel like I've used my time very wisely.
just imagine another song from the Magic Mike XXL soundtrack here okay
Okay, one more thing about this movie before I get back to that other ridiculously sexy caramel confection: I love that there was more or less zero conflict. The characters were just happy and chill and overcame small hurdles and that was it! I have come to realise that I hate when movies, especially movies about an existing entity are like, what shall we do with these characters that the audience knows and loves – better make them fight and be isolated from each other until about ten minutes before the end. (For some reason A Goofy Movie is what sprang to mind here: hot take, A Goofy Movie was a bit disappointing.) Up with niceness! Okay that's quite the end of my breathless and shrieking thoughts on Magic Mike XXL. On here at least.
peanut butter chocolate caramel nut slice
a recipe that I made by smashing several Nigella recipes together and adding bits of my own thoughts so yeah
200g smooth peanut butter
50g soft butter
half a cup brown sugar
one and a half cups icing sugar

one tin sweetened condensed milk
200g butter
two tablespoons golden syrup
half a cup (or so) salted roasted mixed nuts 

200g milk chocolate

Line a brownie tin – either a 23cm square one or a regular sized rectangular one – with a large piece of baking paper. Use a wooden spoon to beat the peanut butter and butter together, then carefully stir in the sugars (I say carefully, because icing sugar tends to fly everywhere in dusty white clouds at the slightest provocation) until you have a sandy, crumbly mixture. Press it into the base of the baking tin, using the back of a spoon (it helps if you dust it with icing sugar first) to flatten it out fairly evenly. Refrigerate while you get on with the filling.

To make the filling, melt the butter in a decent-sized china bowl (or something else microwave-proof) and then stir in the condensed milk and golden syrup. Microwave for five to seven minutes, stirring every minute or so – it will bubble up angrily but shouldn't overflow, it's better to stir it too much than to let it burn or overflow though – by which stage it should be thickened, and darkened into a rich, but still fairly light, golden colour. Let it sit for a bit to cool slightly, and then stir in the nuts. Pour this over the peanut butter base, using a spatula to get every last bit out and to smooth it out on top, then refrigerate till set and firm. 

Finally, microwave the chocolate in short bursts till it's collapsing, and stir till it's totally melted and smooth. Gently spread across the caramel layer, and allow to set either in the fridge or a cool place. 


Wait, I've achieved two other things lately: I zoomed to a party after one of my shifts and danced my face off with friends and had my sister-from-another-species vibe with Percy the corgi reconfirmed.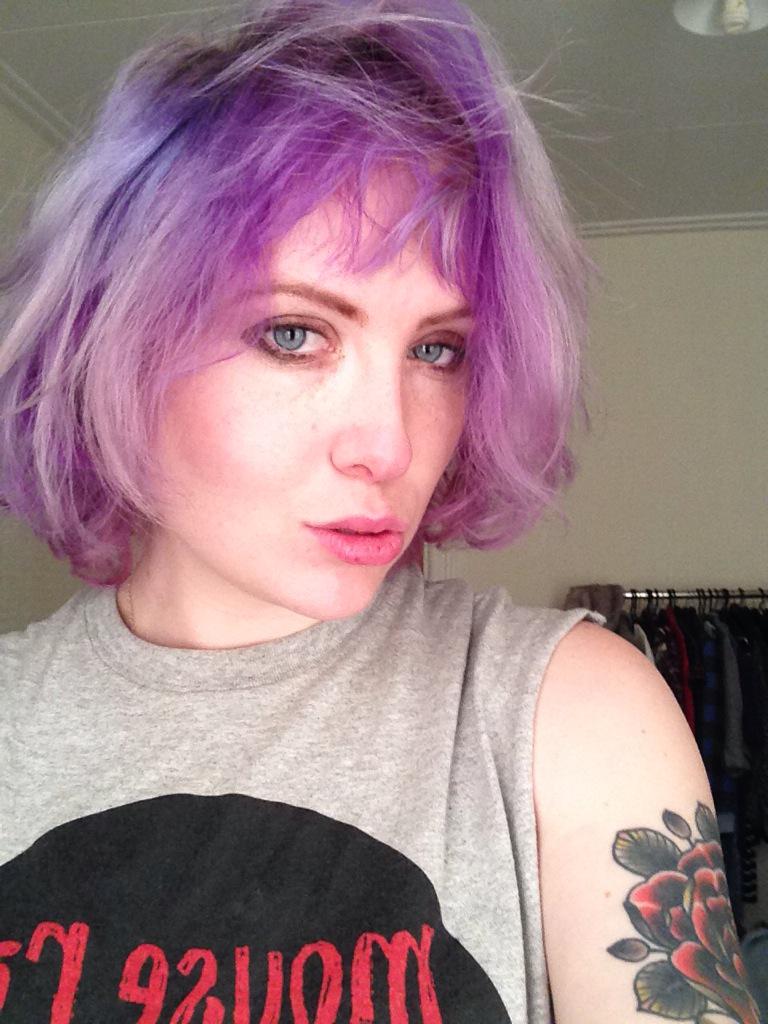 And, I dyed my hair purple. Well, more specifically, I stuck my hands in the pot of purple dye and kind of mussed up my hair (which was at the time a fading blue colour) in a haphazard manner just to see what would happen. It turned out pretty well, I think. In fact there's probably also a metaphor for my life in there (or at least I'm self-centred enough to think that pretty much everything could be a metaphor for my life and indeed, that my life is fascinating enough to warrant multiple metaphors to represent it.) (I'm not sure if that made any sense but in my defense: oh man I'm tired.)
title from: Drake, Best I Ever Had, which is just…so Drake. "Sweat pants, hair tied, chillin' with no make-up on/That's when you're the prettiest, I hope that you don't take it wrong."
music lately:
Carly Rae Jepsen, Run Away With Me. It's like the best eighties song you don't remember. 
Janet Jackson, No Sleep. It's so dreamy. She's back and she never even left.  
next time: I'm still working a ton more than usual but I'm gonna try so hard to cook for myself one time and blog about it before, I don't know, the next financial year end rolls around.